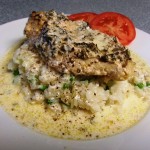 A fourth Chicken Dump Recipe, however I increased the seasoning a bit and used some of the juices to make a cream sauce
For the risotto I used some White Wine as my "acid" and added a touch of Lemon-Pepper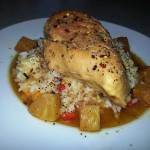 Yet another recipe from this site.  With a name like "Caribbean Chicken" an expectation is set. I'm wondering if these recipes were created by someone from the mild mid-west where Taco Bell  "Mild" sauce is considered to be blistering hot. Basic seasoning is seriously lacking in some of these. I would recommend adding (which I have done so below) 1 tsp of Salt, 2 tsp of Crushed Red Pepper and 1 tsp of Black Pepper
Given the "tropical" promise of the name I used a Citrus seasoned Rice Vinegar in the Risotto and added diced Red and Orange Bell Peppers along with some crushed Macadamia nuts.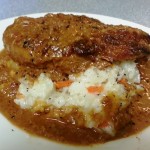 Another of the "Chicken Dump" recipes.  Made according to the posted recipe and it was actually quite bland and "flat"  If I were to make it again I would add Sriracha, Salt and serve it with wedges of fresh Lime and a sprinkling of Cilantro which I have added to the list of ingredients below
For the side of Rice I used Rice Vinegar to give it a bit of a Sushi taste (sushi is rice NOT fish) and folded in shredded Carrot since the dish seems to be going for a Thai/Vietnamese flavor profile.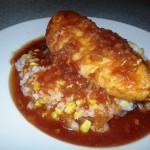 Decided to try this lady's 10 Chicken crockpot recipes and to come up with a side dish of rice to go along with them using my "No-stir" risotto recipe tailored to a flavor profile to accompany the dish.
The sauce had a bit of a BBQ like taste and at first I was thinking about using Apple Cider Vinegar and a Yellow Onion but decided to use a Red Onion and Red Wine Vinegar instead to mimic the color of the Sauce too. Corn on the Cob goes well with BBQ so I used Corn in Risotto.
Her plan is to have these made ahead so that you just dump the contents that you had placed into a 1 Gallon ziplock Freezer bag into a crock pot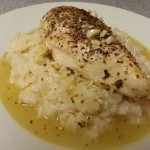 The lemon Chicken part of this dish recipe is one of Ina Garten's. However she used skin-on boneless Chicken breasts in her recipe (baked them skin side up). I substituted boneless and skinless breasts as my wife does not like the skin
For the "Broth" you can use Chicken stock, Beef Stock, etc.. I have even used Coconut water (paired it with Pineapple Juice for the acid). For the Vegetable that you fold in just use your imagination to fit the flavor profile you are going for. Peas, Corn, Chopped Peppers, Citrus zest, Macadamia nuts, etc... Same for the "Acid". Red Wine vinegar, Rice vinegar, Pineapple, Lime or Lemon juice, etc... Also with the type of cheese you are wanting. Parmesan, Mexican blend, etc..