Beef Jerky
I like to make my own beef jerky and experiment with various flavor combinations.  Hands down the favorite flavor thus far is my "Sweet & Salty"
Many of these recipes I came up with while on a PSMF diet and thus the reason for the artificial sweeteners. You could of course use real sugars instead.
The beef I like to use cane be found at your larger Mexican Food markets.  It is called Beef Cecina which generally is a thin cut from the eye of round.  Foudn this description on line describing how to obtain this cut.
---
– Trim the top, bottom, and ends off the meat so you are left with a cube shape.
– You will need a very sharp knife for this. Lay the meat with the grain running crosswise in front of you.
– Slice at one end, parallel to the cutting board and about ? inch below the top.
– Stop 1/8 inch before you reach the end. Do not cut right through.
– Turn the meat 180 degrees, open the meat at the "flap" and cut again, 1/8 inch under the first cut.
– Repeat this, opening the meat out each time, until you end up with one long, concertina-like, 1/8 inch thick piece of meat."

Place the beef slabs on a cutting board. Cut into approximately 3" x 1" strips (trim any excess fat) and place 2 lbs worth of the meat into a 1 gallon zip lock freezer bag.

Pour enough of the desired marinade over the meat to ensure it is able to be fully coated once you have squeezed the air from the bag. Place in the refrigerator over night.

Place the strips of meat on the racks of your dehydrator (I use an American Harvest brand) I will fully load up four racks and with the temp set at the highest setting (about 160 degrees) it only takes 3-4 hours until the jerky is done. We like our jerky still a little tender, If you want it a little stiffer and with a longer shelf life (LOL as if that is gonna be needed) keep it drying a bit longer until it meets your desired level of "doneness"
PSMF Recipe – Korean Bul-Go-Gi and Taco Flavored Beef Jerky
Protein Sparing Modified Fast
Two recipes for flavored beef jerky.  One using a Korean Bul-Go-Gi (ë¶ˆê³ ê¸°) inspired marinade and the other using a Taco seasoning flavor.
---
First the Korean Bul-Go-Gi marinade.  Very easy marinade to make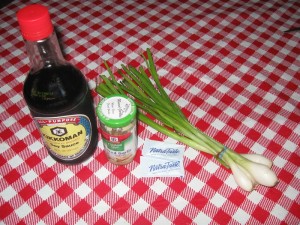 1/2 C. Soy Sauce
1/2 C. Water
2 pkgs Artificial sweetner (I prefer NatraTaste)
2 cloves Garlic – minced
1/2 bunch Green Onions – chopped
Black pepper to taste
---
Now for the Taco flavored marinade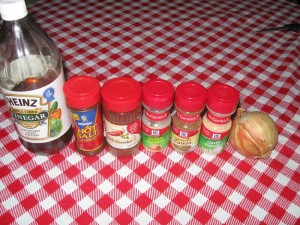 2 t. Morton Hot Salt
2 T Chili Powder
1 t Garlic Powder
1 t Cumin
2 t Onion Powder
4 T Apple Cider Vinegar
1 C. Water
1/2 Med Onion – diced
To add a little heat mix in 1 T Tobasco
---
Place the above mixes in ziploc freezer storage bags along with 1 pound of very thinly sliced flank/flap meat(trim as much fat away from the meat as you can) and make sure the meat is coated thoroughly.  Squeeze as much air out of the bag as possible and place laying flat in the refrigerator for 24 Hours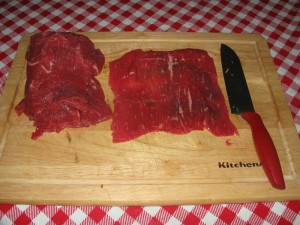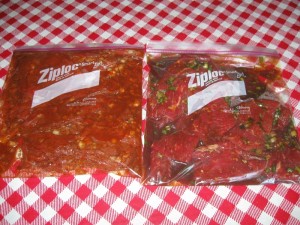 After marinating for 24 hours (or more) remove meat from the storage bags and pat dry to remove the excess moisture and the diced onions, etc…
Arrange the strips of beef on the racks of your dehydrator and run it per the manufacturers directions.
I like to turn the strips over every hour or so while they are drying.  Note that I also will put a few "smaller" pieces on the top rack so I can sample bits for doneness
When completed store the dried jerky in ziploc storage bags
3 Responses to PSMF Recipe – Korean Bul-Go-Gi and Taco Flavored Beef Jerky