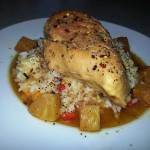 Yet another recipe from this site.  With a name like "Caribbean Chicken" an expectation is set. I'm wondering if these recipes were created by someone from the mild mid-west where Taco Bell  "Mild" sauce is considered to be blistering hot. Basic seasoning is seriously lacking in some of these. I would recommend adding (which I have done so below) 1 tsp of Salt, 2 tsp of Crushed Red Pepper and 1 tsp of Black Pepper
Given the "tropical" promise of the name I used a Citrus seasoned Rice Vinegar in the Risotto and added diced Red and Orange Bell Peppers along with some crushed Macadamia nuts.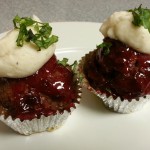 Make the meat mixture and the BBQ sauce the night before to give the flavors in the meat and the sauce time to meld.
They have a nice heat level so if you don't tolerate heat that well leave out the Tabasco and maybe just use two Chipotle peppers instead of four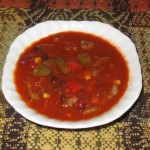 People (otherwise known as wimps) complained in the past that my other entries were too hot. I like heat as long as it is controlled and still allows the flavor to come through. This recipe has little to no heat however. I also like chili with beans and vegetables as opposed to a traditional Texas "bowl o' red".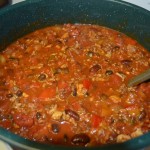 No initial heat with a slow build so that when a good sized bowl has been consumed you will feel a little bit of warmth around your lips. Note: If you like some heat I would double the peppers - See more at: http://www.davesdroppings.com/index.php/2012-pot-ochili-recipe/#sthash.DY85LTvN.dpuf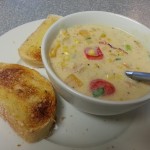 Found the basis for this on the Food Network website.  Very tasty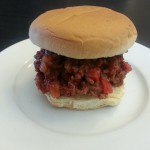 A little heat, a little sweet…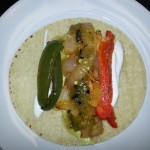 Easy to prep ahead of time meal. Let the Chicken, Spices and Onion marinate overnight.