PSMF Recipe – Salsa Verde Flat Iron Steak
Protein Sparing Modified Fast
Made this recipe up on the fly last evening. Simple, quick and
flavorful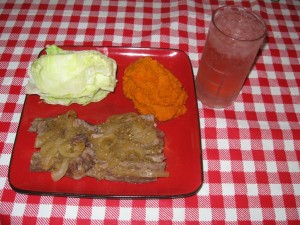 16 oz Flat Iron Steak (cut into 8 oz portions)
1 Large Onion
16 oz Herdez Salsa Verde http://www.mexgrocer.com/1222.html
Cut the onions into half rings. Place onions in frying pan sprayed with PAM (med-high)
to start to caramelize. Salt and pepper the Steak and place in pan
to sear on both sides. Turn heat down to med-low.  Pour half the
bottle of Salsa Verde over the steaks. Cover and allow to simmer for
9 minutes.  Turn the meat over and simmer for an additional 9 minutes.
Slice the meat into thin strips with the Salsa Verde and onions form the pan poured back over
the meat.
Serve with warm small flour tortillas and diced up Avocado. Would also be good with small fried potatoes with the Salsa Verde as a "gravy".
Of course on this diet I could not have the tortillas or the Avocado
(Lori did however). Just ate mine as a Steak. Can use lettuce cups as shown.
Side is Mock Sweet Potatoes with Habanero Hot Sauce added to taste to "kick'em" up a bit.  Good blend of heat and sweet.
Plus a glass of Home made Soda. This glass is using a teaspoon of Cherry Extract