Typical Weekend w/ NASA
About once a month I instruct High Performance Driving for the Arizona Region of the National Auto Sport Association (NASA).  This is what a typical day at the track is like…
After signing up for the class (and getting a NASA membership) you show up to the track we are running at (PIR, Firebird, etc) around 6-7am.  Take your car through tech inspection (checking battery tie down, tires, etc…) and then attend the morning drivers meeting at about 7:45am.  The "Driver's Meeting" is where the day's schedule will be discussed and any important information relayed.  Then that meeting will break up to allow the smaller individual groups (HPDE1, HPDE2, HPDE3, HPDE4, Time Trials, Race, etc…) to meet with their group leaders.  At this time I'll take the HPDE1 students to the classroom for their first session.
In the first class we go over track etiquette, flags, how to sit in the car, adjust mirrors, etc… and go over track photos and a track video.  Basic info to keep you safe on track.  This classroom session is normally around 1 hour 15 minutes.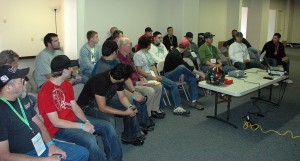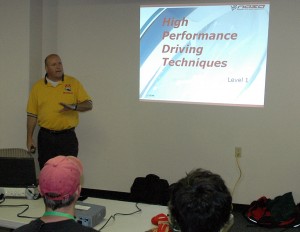 The student then will go on track for the first of three 30-minute sessions.  The in-car instructor will drive the students car for the first 10-minutes of this first session.  He will not be driving it fast.  Figure if flat out driving is 10/10ths the instructor will drive at about 4/10ths.  The idea is so that he can feel what your brakes, suspension, etc… feels like as well as point out the references points and track features that were discussed in class. Then they pull into the Hot Pits and swap drivers so that the student will drive for the final 20-minutes of that session.
Back to Class for the second classroom session where we go over apexes, vehicle dynamics etc… and discuss things that happened on track in the first session.
Back on track for another 30-minute track session with the student at the wheel for the entire time.
Back to the Classroom for a debriefing session and to get their logbook that the in-car instructor will fill out and sign after the third (and final) 30-minute track session.
NASA has four levels for street cars.  Level 1 is the beginner class. Passing only on the main straight and preferably with a point by from the car being passed.
Level 2 is the next rung.  Just like in Level 1 there are limited passing zones but the speeds can be significantly faster.
Level 3 has passing anywhere on track.
Level 4 is the only DE group with laps being timed.  The drivers in DE4 are competing against the clock.  It's called a Time Trial but figure it being like an Auto Cross on a road course with multiple cars on the track at the same time.
Graduating the DE1 class with a signed off logbook moves you into DE2.  To move from DE2 to DE3 you ask the DE2 Group Leader if you can move up and if he thinks you are ready he or one of his assistants will give you a check ride.  You then present yourself to the DE3 Group Leader and either he or one of his assistants will give you another check ride to determine whether they will accept you into their group.  This keeps drivers from moving up that should not and also allows the Group Leaders to demote a driver to the lower group if they need to work on skills.
Besides the four DE groups there are also 2-3 race groups (grouped by horse power) as well as the occasional drift group that comes out a few times a year.
—————-
The DE1 class is a High Performance Driving Class.  It is not a racing school.  Different concepts and theory.  What is taught in the DE1 class will certainly help you be a better and more aware driver on the street.  As for the equipment you need for the class.
Helmet. Yep.  It does not have to be a SNELL rated fire proof racing helmet.  It can be a regular DOT motorcycle class helmet. Full face or open Face.  But not one of those "Shortie" helmets you see some wanna be Hog riders or Vespa/moped (hehe…) riders wear.
No need for a drivers suit.  Jeans and a long sleeve shirt are fine.  No open toed shoes.  Tennis Shoes or a nice flat bottomed "driving" loafer.  As long as they are comfortable and not bulky.  You want to be able to feel the throttle and brake pedals.
Gloves?  Required no. However, I would recommend them for grip purposes but they don't need to be fireproof racing gloves.  You could wear some old British Car correct string-back gloves.
Seatbelt.  Yes.  Racing harness?  No.  I'm not sure on tech but I would expect that a simple lap belt would not be sufficient.  At least a typical three point belt  (across the lap and over one shoulder) like that found in most cars is all that is required.
Rollbar?  Has not been required.  Typically, they would probably ask that you put up the top on a convertible.
My oldest Daughter took the class last year on her 17th Birthday.  She drove her automatic transmission BMW 528e for the class.  Typically the students in the class are male (although we generally have 1-2 females per class*) and are driving their street car.  BMW, Honda, Mazda, Vette, etc…  But I have had a student in a Pickup truck and even had a lady take the class in her Nissan Xterra SUV.  Last month I had students in a brand new Ford GT (belching 2 feet of flame when the driver lifted off the gas for turn 1) and a Ferrari 360 Spyder.  They were sharing the track with other DE1 students in an old Datsun 240Z and a Subaru WRX.  Tremendous mix of cars.  No speed limit but restricted passing zones.  Typical class will have about 18 students.
* I prefer to be the in-car instructor for the female students myself as they don't tend to bring too much ego to the car and "think" they already know how to drive.  They are willing to listen and therefore make progress across the day without lots of bad habits to try and break.