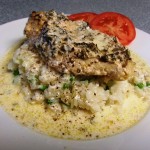 A fourth Chicken Dump Recipe, however I increased the seasoning a bit and used some of the juices to make a cream sauce
For the risotto I used some White Wine as my "acid" and added a touch of Lemon-Pepper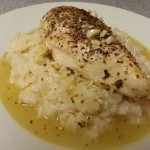 The lemon Chicken part of this dish recipe is one of Ina Garten's. However she used skin-on boneless Chicken breasts in her recipe (baked them skin side up). I substituted boneless and skinless breasts as my wife does not like the skin
Low carb and low fat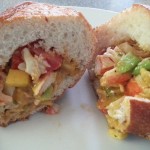 This is made with inexpensive fake krab but of course could be made with good lump crab meat.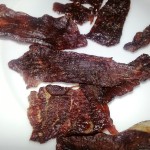 I like to make my own beef jerky and experiment with various flavor combinations.  Hands down the favorite flavor thus far is my "Sweet & Salty"
Many of these recipes I came up with while on a PSMF diet and thus the reason for the artificial sweeteners. You could of course use real sugars instead.
The beef I like to use cane be found at your larger Mexican Food markets.  It is called Beef Cecina which generally is a thin cut from the eye of round.  Foudn this description on line describing how to obtain this cut.
---
– Trim the top, bottom, and ends off the meat so you are left with a cube shape.
– You will need a very sharp knife for this. Lay the meat with the grain running crosswise in front of you.
– Slice at one end, parallel to the cutting board and about ? inch below the top.
– Stop 1/8 inch before you reach the end. Do not cut right through.
– Turn the meat 180 degrees, open the meat at the "flap" and cut again, 1/8 inch under the first cut.
– Repeat this, opening the meat out each time, until you end up with one long, concertina-like, 1/8 inch thick piece of meat."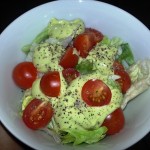 Saw a version of this and thought we would try it.  The original was a little bland for my taste.  Modified it by increasing the amount of lemon juice for more acid, more hot sauce because why the hell not and adding black pepper.