Sweet Potato Waffles with Nut Topping
This Recipe is from Taste of Home.  While the original Recipe calls for making them as Waffles they work realy well and have a great "toothiness" as pancakes too.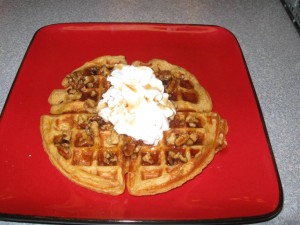 Ingredients
2 cups biscuit/baking mix
2 tablespoons http://cialistadalafils.com/ brown sugar
1/4 teaspoon ground ginger
1 egg
1/4 teaspoon ground nutmeg
1/2 teaspoon ground cinnamon
1-1/3 cups 2% milk
2 tablespoons canola oil
1 teaspoon vanilla extract
1 cup canned sweet potatoes, mashed
TOPPING:
1 tablespoon butter
1/2 cup chopped pecans
1/2 cup chopped walnuts
Dash salt
1 tablespoon water
Maple syrup
Dash ground nutmeg
2 tablespoons brown sugar
1/8 teaspoon ground cinnamon
Directions
In a large bowl, combine the biscuit mix, brown sugar and spices. In another bowl, whisk the egg, milk, sweet potatoes, oil and vanilla. Stir into dry ingredients just until combined.
Bake in a preheated waffle iron according to manufacturer's directions until golden brown.
Meanwhile, in a small skillet, melt butter over medium heat. Add pecans and walnuts. Cook and stir for 2 minutes. Add the brown sugar, water, cinnamon, salt and nutmeg. Cook and stir until sugar is dissolved. Serve waffles with topping and syrup. Yield: 12 waffles.
Add some whip cream and a little more of the topping drizzled over it.
2 Responses to Sweet Potato Waffles with Nut Topping