Rocking the Rides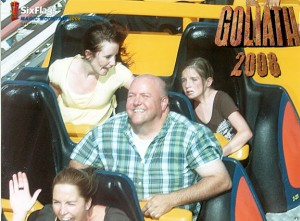 Goliath is one of their "Max" rides. We rode it after Colussus (the old Wood rollercoaster). Andi got a little psyched out for Goliath because the kid riding in the car with me kept saying how scary Goliath was. It has a near vertical 61-degree 255 foot main drop (26 stories @ 85 mph) that exists through a 120-foot long tunnel. The ride lasts 3 minutes.
Check out the look on Andi's face during the drop. Allie missed the whole drop trying to keep her little sister alive. As you can see from my face I'm having a blast in the car in front of them.
——————–
Andi and Allie on the Sidewinder at Knotts Berry Farm. Think of Disney's Tea Cups on a Roller Coaster. The cars rotate freely during the ride.
[MEDIA=4]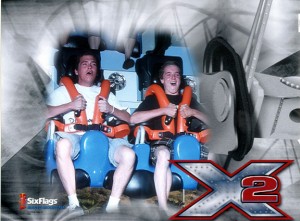 Scott and Tyler on the new ride X2 at Magic Mountain