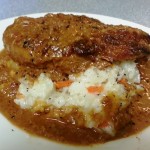 Another of the "Chicken Dump" recipes.  Made according to the posted recipe and it was actually quite bland and "flat"  If I were to make it again I would add Sriracha, Salt and serve it with wedges of fresh Lime and a sprinkling of Cilantro which I have added to the list of ingredients below
For the side of Rice I used Rice Vinegar to give it a bit of a Sushi taste (sushi is rice NOT fish) and folded in shredded Carrot since the dish seems to be going for a Thai/Vietnamese flavor profile.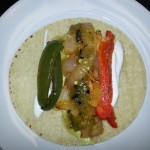 Easy to prep ahead of time meal. Let the Chicken, Spices and Onion marinate overnight.