Philly Cheese Steak Pepper Boats
Use a paring knife to remove the part of the Bell Pepper where the stem attaches, then slice the pepper in half length-wise to remove the ribs and seeds. Place the Bell Peppers in a foil lined casserole pan Lay a slice of Provolone cheese in the bottom of the boat to line it.

Slice the Onion in half from the root to the top and then cut the onion into thin half rings. Cut the mushrooms into slices. Add the Coconut oil, butter, onions, mushrooms and garlic powder to a pan over medium-high heat and cook until caramelized, about 25 minutes. When done remove from the pan and set aside.

Return the pan to the heat and add the steaks. Chop/shred the steak until browned. Season with 10 grinds of fresh black pepper and 2 tsp kosher salt. Drain well and remove from the pan.

Spoon two heaping spoonfuls of the shredded meat into each boats and add another heaping spoonful of the onion/mushroom mixture on top of the meat. Top with a slice of Provolone cheese.

Place the pan in a 400 degree oven for 15-20 minutes or until the cheese is golden brown

I have also placed large bell peppers that were cut in half open end to open end to create a larger boat and mixed the meat, onions and mushrooms altogether before adding to the peppers
Philly Cheese Steak Pepper Boats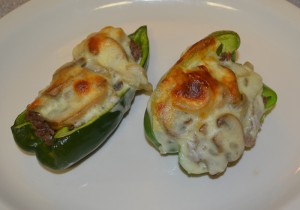 Make an easy and low carb alternative to a traditional Philly Cheese Steak. I modified this recipe from one that I had seen passed around
Steak-umms (Two packages of 6, of course you can use super thin sliced sirloin too)
8 Slices Provolone Cheese
4 L Green Bell Peppers (Poblano's work well too as you can see in the below photos)
1 Medium Sweet Onion
1 lb White Mushrooms
3 T Coconut Oil
2 t Garlic Powder
Salt and Pepper to taste
Use a paring knife to remove the part of the Bell Pepper where the stem attaches, then slice the pepper in half length-wise to remove the ribs and seeds. Lay a slice of Provolone cheese in the bottom of the boat to line it.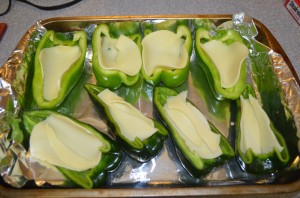 Place the Bell Peppers in a foil lined casserole pan
Slice the Onion in half from the root to the top and then cut the onion into thin half rings. Cut the mushrooms into slices. Add the Coconut oil, butter,  onions, mushrooms and garlic powder to a pan over medium-high heat and cook until caramelized, about 25 minutes (try not to taste test all the mushrooms, you'll need them to stuff the peppers.) When done remove from the pan and set aside.
Return the pan to the heat and add the steaks. Chop/shred the steak until browned. Season with 10 grinds of fresh black pepper and 2 t kosher salt. Drain well and remove from the pan.
Spoon two heaping spoonfuls of the shredded meat into each boats and add another heaping spoonful of the onion/mushroom mixture on top of the meat.  Top with a slice of Provolone cheese.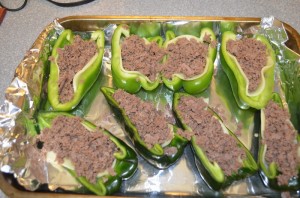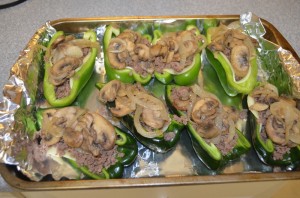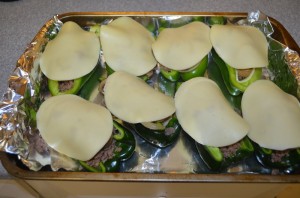 Place the pan in a 400 degree oven for 15-20 minutes or until the cheese is golden brown