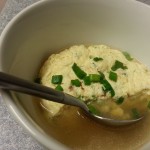 If you like nice fluffy eggs you'll want to give this dish a try.  Super easy and super quick to make – Less than 10 minutes start to finish
The eggs come out so light and fluffy they make an omelet or quiche look like they are made of lead.
Think of this as being like a cross between an Omelet and Chicken Noodle soup (minus the noodles).